Army in Poland
From 1914, German and Austrian forces occupied the former Russian Poland. Whilst the northern part was solely under German occupation, a southern "sandwich" (to the south of Lodz/Warsaw/Lukow, and to the north of Krakow/Tarnow/Jaroslaw) saw occupation by Austrian forces. Initially mobile Feldpost offices were provided for the use of troops, but soon settled Etappenpostamt offices (base offices serving the postal network) were opened in the major towns. Feldpost mail also exists from garrisons and hospitals in Galicia (now Poland), which was then still part of the Austrian Empire.
---
Etappenpostamt Offices in Poland
From 1915, various Feldpost offices were converted into fixed Etappenpostamt offices in the part of Russian Poland in Austrian military possession. The offices were as follows:
ANNOPOL LUBELSKI
BELCHATOW
BELZYCE
BIALOBRZEGI Kreis Radom
BILGORAJ
BUSK in POLEN
CHECINY
CHELM (earlier CHOLM)
CHOLM (later CHELM)
CHMIELNIK
DABROWA in POLEN
DEBLIN (or DEBLIN in POLEN)
DZIALOSZYCE
DZIALOSZYN (a different town from Dzialoszyce)
GORZKOWICE
GRANICA
GRUBIESZOW (later HRUBIESZOW)
HRUBIESZOW (originally GRUBIESZOW)
ILZA
IWANISKA in POLEN
JANOW in POLEN
JEDLINSK
JEDRZEJOW
KAZIMIERZA WIELKA
KIELCE
KLIMONTOW
KLOMNICE
KONIECPOL
KONSK
KOPRZYWNICA
KOZIENICE
KRASNIK
KRASNOSTAW
LASZCZOW
LECZNA
LIPSKO
LUBARTOW
LUBLIN
MIECHOW
NOWA BRZEZNICA
NOWO ALEKSANDRYA
NOWORADOMSK
NOWY KORCZYN
OLKUSZ
OPATOW in POLEN
OPOCZNO in POLEN
OPOLE KREIS PULAWY
OSSYAKOW
OSTROWIEC
OZAROW KREIS OPATOW in POLEN
PAJECZNO
PIASKI KREIS LUBLIN
PILICA
PINCZOW
PIOTRKOW
PRADLA
PROSZOWICE
PRZEDBORZ KREIS KONK
PRZYSUCHA
PULAWY
RADOM
RADOSZYCE Kreis Konsk
RUDNIKI
SANDOMIERZ
SILNICZKA
SKALA in POLEN
SKALBMIERZ
SKARYSZEW in POLEN
SKARZYSKO
SLAWKOW in POLEN
SLOMNIKI
SOLEC KREIS WIERZBNIK
STASZOW
STOPNICA
STRZEMIESZYCE
SUCHEDNIOW
SULEJOW
SZCZEBRZESZYN
SZCZEKOCINY
SZCZERCOW
SZYDLOW
SZYDLOWIEC (a different town from Szydlow)
TARNOGRAD
TOMASZOW (later TOMASZOW Kreis Tomaszow)
WAWOLNICA
WIDAWA
WIERZBNIK
WLOSZCZOWA
WODZISLAW
WOLBORZ
WOLBROM
ZAKLIKOW
ZAMOSC
ZARKI
ZAWICHOST
ZWIERZYNIEC Kreis Zamosc
Further reading : "Stempel-Handbuch der K.u.k. Feldpost in Osterreich-Ungarn 1914-1918" by Herwig Rainer
Polish Legion
In August 1914 two Polish Legions (Eastern and Western) were formed from Polish speaking volunteers and conscripts from Galicia, under the leadership of General Pilsudski. The Eastern legion was disbanded after defeats by the Russians in Galicia. Three brigades of the Western Legion fought in Galicia and the Carpathian mountains in 1915. During 1915 and 1916 units also operated in other areas of Poland in an auxiliary role. Most Austrian military mail that can be identified with the Polish Legion comes from this period.
During this period the Austro-Hungarian and German armies were operating as a joint operation, albeit with some friction over conflicting interests. However, in July 1917 Pilsudski declined to pledge loyalty to the German Kaiser, and as a result 15,000 Polish Legion forces were interned by the Germans at Beniaminow (near Warsaw) and at Szczypiorno (near Kalisz), while the remaining 3000 men were sent to the Austro-Hungarian front in Italy where anti-German sympathies would be less problematic.
The following KuK HAUPTFELDPOSTAMT (HQ offices), KuK FELDPOSTAMT (normal FPO near the front) or KuK ETAPPENPOSTAMT (supporting offices not at the front) are known on mail from men in the Polish Legion. All of these military post offices may have carried mail from other (non-Polish) units, and from 1917 most of the Legion was interned in Poland, therefore it is important to check the mail item bears a mention of the Polish Legion in the sender address, or has message text in Polish.
The following is a list of FPOs known to have carried mail (with date period if known) from the Polish Legion forces. The dates given are those when the postmark was in use, but other units of the Austrian Army may have used the postmark outside the period when the Legion was active. E = KuK ETAPPENPOSTAMT; F = KuK FELDPOSTAMT; H = KuK HAUPTFELDPOSTAMT.
3 F (Mar 1917 to Oct 1918)
8 F (Dec 1914 to Feb 1915)
22 H (Aug 1914 to Aug 1916)
49 F (Aug 1914 to Nov 1918)
118 F (Jan 1915 to Sep 1916)
121 H (Apr 1915 to Jul 1915, then from Dec 1915 at Konsk)
125 H (Feb 1915 to Nov 1916)
133 H (Apr 1915 to May 1915 at Piotrkow)
135 H (Nov 1915 to Oct 1915 ar Radom)
142 E (Jan 1915 to Jul 1918 at Olkusz)
150 E (Jan 1915 to Apr 1916 in Serbia, from Apr 1916 at Krusevac)
163 H (Oct 1915 to July 1916)
180 E (Jul 1915 to Nov 1918, Apr 1916 to Sep 1916 Legion use)
181 E (Sep 1915 to Jan 1917, Oct 1915 to May 1916 Legion use at Lublin)
185 E (Sep 1915 to Nov 1918)
186 F (Oct 1914 to Sep 1916)
199 E (Dec 1916 to Jan 1918, Legion at Deblin in the later period)
204 F (Aug 1914 to Sep 1916)
353 F (Nov 1914 to Jul 1916, also used by Hungarian forces with TABORI POSTAHIVATAL style cancel)
355 F (Mar 1915 to Sep 1916)
378 F (Sep 1916 to Feb 1918 at Warsaw)
388/II H (Aug 1916 to Sep 1918)
389 F (Sep 1916 to Mar 1917 at Warsaw)
Identifying mail from the Polish Legions is an ongoing study. If collectors can offer further information on additional FPOs carrying Legion mail, or extend period of known dates, please advise us and we will update this listing.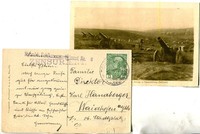 Price

£10.00

Stock Code

025400
GALICIA (025400)
sepia viewcard of cannon battery in Galicia, from DOUBRAVKA cds (Czech), censor cachet, to Waidhofen, 1916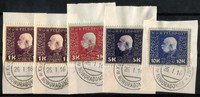 Price

£35.00

Stock Code

026287
NOWORADOMSK (026287)
Military Post 1915 FJ 1K (2), 3K, 5K, 10K each on piece (cat £116) with NOWORADOMSK cds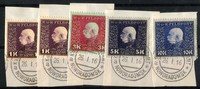 Price

£35.00

Stock Code

026288.jpg
NOWORADOMSK (026288)
Military Post 1915 FJ 1K (2), 3K, 5K, 10K each on piece (cat £116) with NOWORADOMSK cds